JANESVILLE—"Silver Bells" has an all-new meaning for the holiday season as Rotary Botanical Gardens celebrates the 25th anniversary of its popular Holiday Light Show.
The show, which features more than one million colored lights strewn throughout the gardens property, kicks off at 4:30 p.m. Friday and continues through Dec. 30.
Every year since 1996, Rotary Botanical Gardens staff and volunteers have worked to add new elements in an effort to help "beef up the show," said Becky Kronberg, executive director at the gardens.
"We have really focused on additional LED lights, because that's obviously bringing even more brightness to the show," she said. "It's also going to help with the electrical. The brightness that LEDs provide—there's a huge difference.
"We're probably somewhere up toward 70% to 75% LED lights. We did invest in a lot of new lights this year."
This year's show has some new displays created by volunteers. One features a couple of polar bears who made an appearance in the last show, but they will be doing different things this year.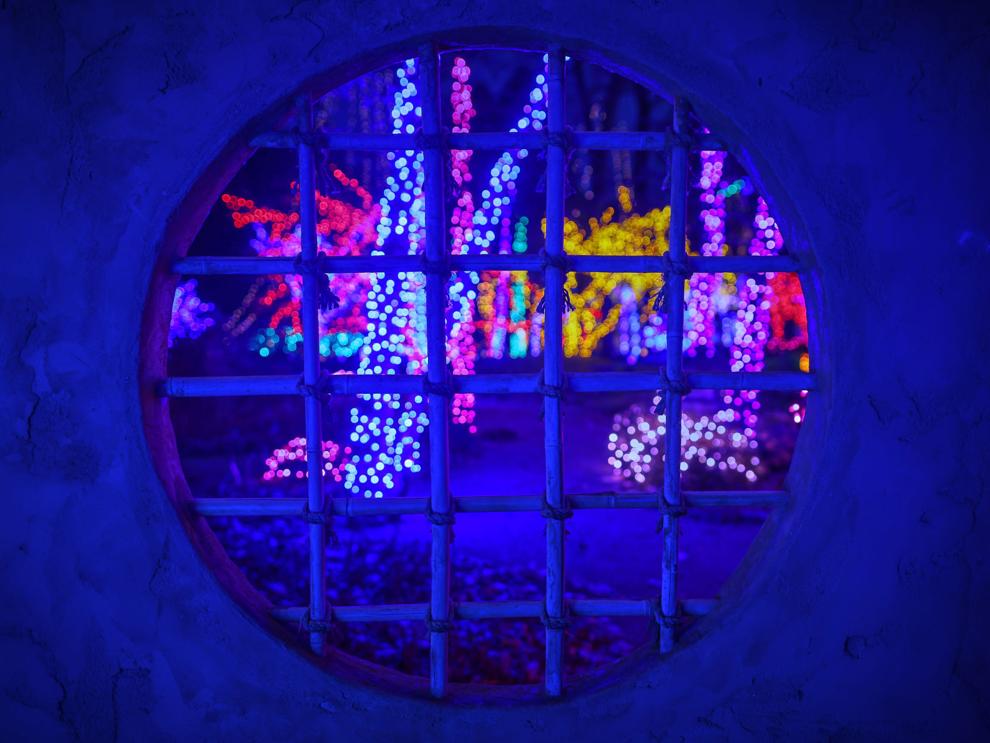 "The bears had run past the Christmas tree (last year). It was all tangled with lights," Kronberg said. "(Workers) actually handcraft these (bears) out of really thick Styrofoam, and they're just super cute.
This year's light show also includes penguins by the koi pond. The penguins are constructed in a similar fashion as the polar bears, and they can be seen coasting down a slide.
Yet another volunteer has created a giant American flag for this year's show, and others are helping put together a large mailbox for letters to Santa. After children put their letters in the mailbox, they will receive a postcard in the mail from Santa inviting them back to the gardens this summer.
The mailbox will be located near Santa's house and elf workshop.
"We've just really increased the number of lights and some new displays, and we're always changing things around," Kronberg said. "It all feels new again to everyone."
Horticulturist Larry Holterman installed most of the lights for the show, much as he has for the past eight years. He began volunteering after he retired in 2009.
His process is quite detail-oriented.
"It's wrapping every branch so it makes it really spectacular for the show," Holterman said. "I started doing that in the middle of August. I do the trees and bushes from then until the middle of October, and then a bunch of people jump in. There's so much other stuff to do like the arches, luminaries and animated displays. The lady volunteers come up with some good ideas, and putting lights on the fences are one type of thing (the volunteers came up with)."
One of the show's features, the walking path, measures about two-thirds of a mile. Along the path are about 1,132 strands of what garden officials refer to as "highlights"—lights that hang from the tallest trees in the garden.
"You've immersed yourself in the lights," Kronberg said. "We use 6 miles of extension cords, which is crazy. We definitely have well over a million lights. That's certainly being conservative."
Kronberg found some old brochures from the first holiday light show 25 years ago, which started with small and humble beginnings. That show featured around 10,000 or 15,000 lights, and the gardens have increased dramatically since then.
"It's really taken off in the last five or six years as far as attendance," Kronberg said. "It's just really jumping. We'll attribute that to the fact that we've done a better job of organizing our lights and displays and making it a better route. It's all one way and we reversed it to make it a better experience."
The show usually draws more than 50,000 people, and did so last year even during the COVID-19 pandemic. To keep the show COVID-19 compliant, the gardens will continue with precautions put in place last year including keeping all buildings closed and requiring all tickets be purchased online at rbhholidaylightshow.com.
The gardens also will limit the number of people at the show each night, and spread attendance out across the 25 nights the show is open this year.
One change will be the addition of a small concessions area offering hot chocolate, coffee, bottled water and frosted sugar cookies.
Mark Dwyer, who was the gardens' former director of horticulture from 1998-2019, believes the show has made an incredible transformation over its 25 years.
"When I started, the light show had already occurred," he said. "They had a very small show with like 10,000 lights with the intent of just having something to do in the winter, bringing in a little revenue. What we did was expand the show immediately, making it bigger. It's a fun event, but make no mistake—it's a fundraiser."
Since its inception, the show has tripled in size and is focused more on the customer experience.
"The visitor experience is important but they've also continued to add and expand the lights," Dwyer said. "It's the sheer volume of lights. From 10,000 lights to a million in 25 years is quite a track record."