BELOIT — Last year's 157% increase in the number of Beloit shootings resulting in injury or death is unacceptable, but uncharacteristic for the city in recent years, Interim Police Chief Thomas Stigler said.
Stigler said his department has reallocated resources to help solve pending cases, but the COVID-19 pandemic has hindered the department's efforts to better engage with the community.
Beloit police in 2020 investigated 18 shootings, including two homicides. That was up 157% from 2019, when the department investigated seven shootings, four of which were homicides.
The total does not include three self-inflicted gunshot incidents investigated by police.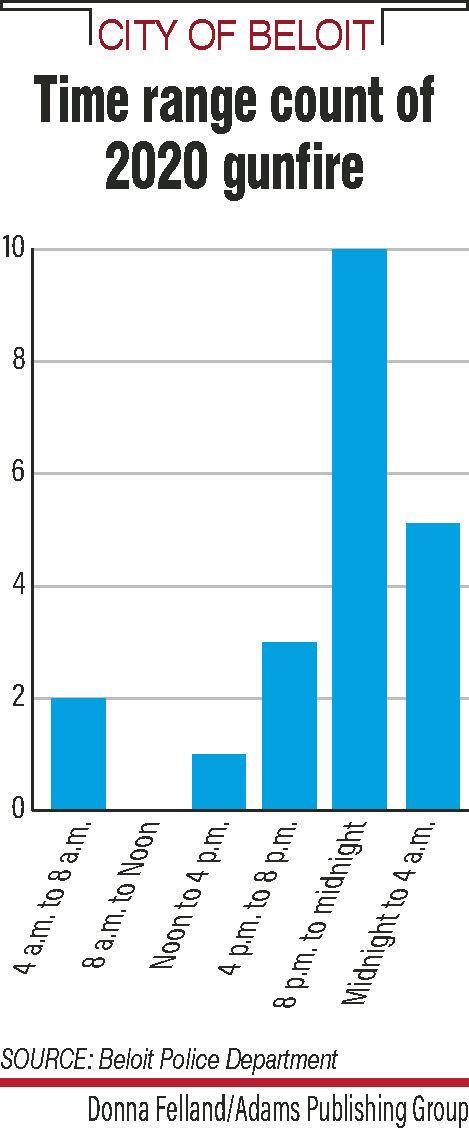 "We aren't seeing any new trends," Stigler said. "There's a small percentage of the population here in Beloit that perpetrates the vast majority of violent crime and we know that."
The number of non-injury shots fired reports investigated by Beloit police increased 64% in 2020.
Police investigated 61 incidents of gunfire that resulted in nine arrests in 2020. That's up from 37 shots fired reports and 16 arrests in 2019, according to Beloit police data.
Department command staff say the gun violence in Beloit is not caused by one specific motive. Police called the increase in gun violence multi-faceted.
"I think it was more common before we increased our community engagement," Stigler said. "There were far too many shootings in 2020, and it's unacceptable and uncharacteristic of the community in recent years. We must do what we can to mitigate any threats in our community to protect the citizens of Beloit."
Stigler stressed the number of homicides could have been higher last year, noting that incidents where people were injured by gunfire and not killed was mere luck.
Going forward, Stigler said, the department has looked to strengthen coordination between the patrol division, led by Capt. Andre Sayles, and the special operations division, led by Capt. Dan Molland, to focus on those suspected of gunplay in the city.
"We're focusing on the people we believe are responsible for these incidents and the geography of the area they are occurring in a two-pronged approach," Stigler said. "We're looking at the data in new ways to more expeditiously close these cases."
A department crime analyst is tasked with providing intelligence aimed at following trends and identifying potential connections between incidents.
Sayles said the patrol division has had increased enforcement in areas of concern across the city, but declined to comment further to protect the integrity of ongoing investigations.
"The majority of our job is responding to calls for service," Sayles said. "The biggest thing we have is community collaboration."
Since 2017 and before the onset of pandemic restrictions, the department focused on increasing community engagement and through that engagement has found more cooperation from the public in solving violent crimes, Sayles said.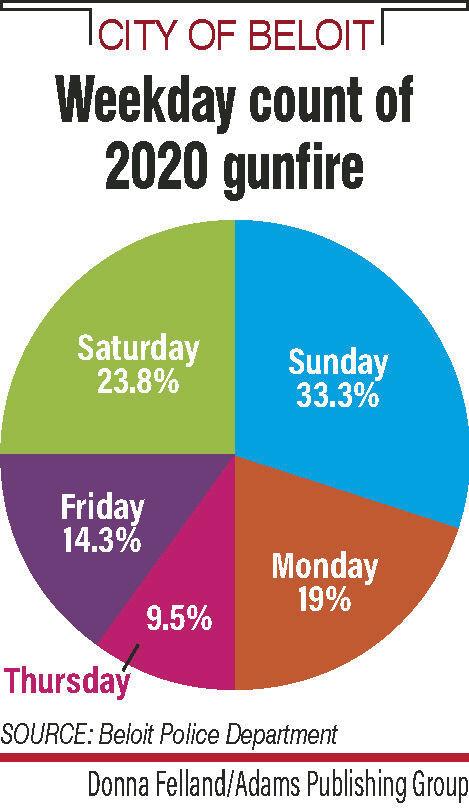 The COVID-19 pandemic has impacted the department's ability to hold community-focused events to build connections with youth.
"That's been an invaluable tool for our department," Sayles said. "I think we lost some part of our engagement in the community."
Molland said the department's violent crimes interdiction team has a sergeant and two detectives focused on spotting connections between ongoing drug investigations, shootings and shots fired data.
For the last four years, the department has partnered with the Rockford Police Department to use the National Integrated Ballistic Information Network that tracks and compares ballistic evidence.
That has helped Beloit police identify weapons used in multiple gun crimes.
"With the nexus on that we work on entering firearms on NIBIN to build on any relations to gun violence that's occurred in the city," Molland said. "We're aiming to have a more targeted response to share information department-wide."
The department's use of social media and tips given to the Greater Beloit Area Crime Stoppers and via the P3 Tips application have helped piece together investigations, but Stigler said it's vital that witnesses still come forward to provide detailed information and be available for contact with police to seek justice for victims of Beloit's gun violence.
The need for community engagement is illustrated by the unsolved slaying of Chelsey R. Payton, 26, who was killed Oct. 3 near the intersection of Grand and Park avenues. The mother of five was caught in a crossfire during a disturbance involving a large group.
To date, no arrests have been made, but command staff say the case remains a top priority.
"The biggest premise on this case is continuing to try and encourage someone who was there to get a hold of the department or Crime Stoppers," Stigler said. "Most homicides are cleared through physical evidence and witness testimony. In this case, there's limited physical evidence but many witnesses. Some of those witnesses have provided information, but sometimes having anonymous information is difficult for us to move forward with."
Stigler said the department had identified people of interest, but he urged community members to come forward.
"We need the community to come together to continue to put the pieces together and continue our investigation," Stigler said. "The police are the community, and the community are the police. We're no more than that."
INTERACTIVE MAP OF 2020 GUNFIRE IN BELOIT