ORFORDVILLE—Hunting for shed deer antlers has been a ritual for Nathan Olsen each winter since he began hunting more than 20 years ago.
The 33-year-old Orfordville man stumbled upon the find of a lifetime Feb. 1: not one, but two sets of gigantic antlers belonging to a pair of bucks that fought, got their antlers tangled and eventually died together.
One of the deer, a 23-point buck with a 17½-inch spread, could be the highest-scoring buck ever recorded in Wisconsin.
Bucks lose their antlers in winter and regrow them in spring and summer. Hunters sometimes look for shed antlers and collect them to get a better idea of the size of bucks in the area.
Olsen finds time to shed hunt whenever he's not working or coaching wrestling.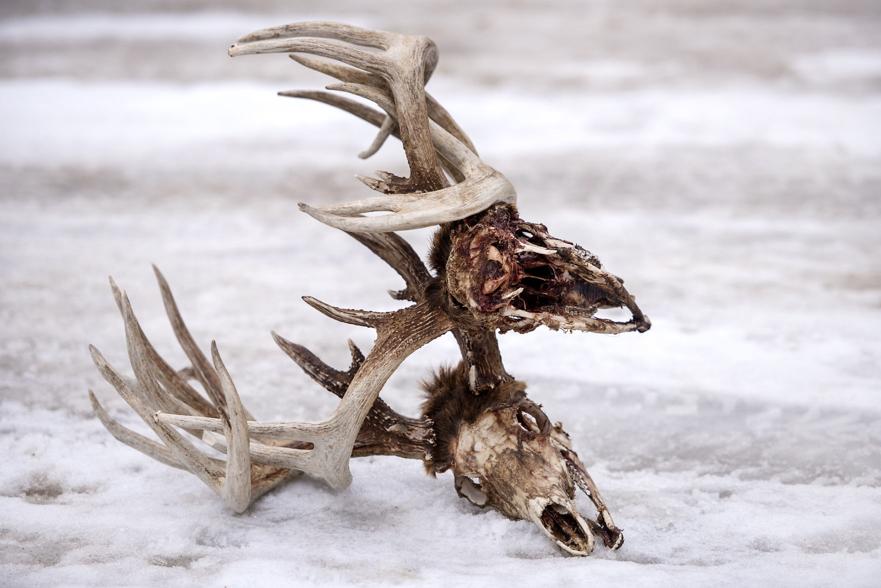 He was shed hunting south of Orfordville with friend Travis Wuthrich when they found the locked sets of antlers. Olsen had turned to talk to Wuthrich when he noticed the carcasses and antlers under a tree.
Bucks are scored on the circumference, length and alignment of their antlers. Deductions come from abnormalities, such as differences in circumference and nonmatching points on either side.
The current record-holder is a 30-point Buffalo County buck killed in 1973 that scored 253. A representative from the Wisconsin Buck & Bear Club came out to see Olsen's shed and felt confident after preliminary measurements that his buck would set a new record.
Taxidermist Josh Mersberger said he has seen a lot in his years of crafting deer mounts, but even he was in awe when Olsen pulled the locked antlers out of his truck.
"This is a first. I've never seen anything that big," Mersberger said.
"I've never seen two bucks locked together. To see two bucks of that caliber locked together, it's just amazing," he said.
Olsen and Mersberger are still fine-tuning what the mount will look like and if they will mount the two deer together or separate, but Olsen said the final result will be something that will make him proud.