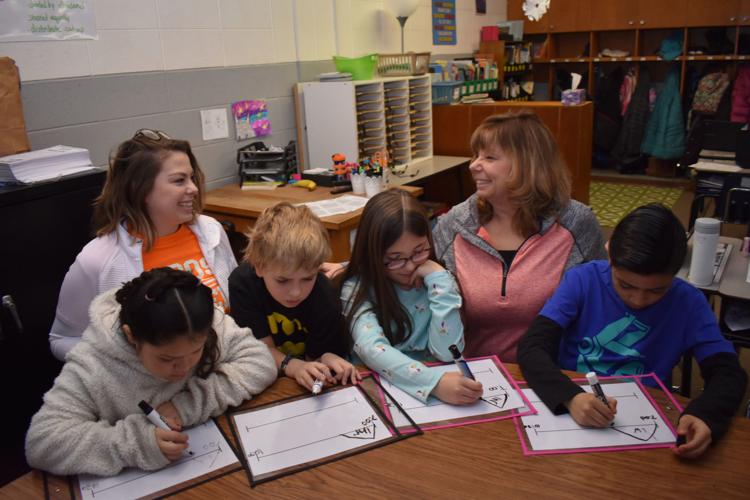 SOUTH BELOIT—Retirement for Riverview and Clark Elementary Physical Education teacher Susan Hanfeld will be bittersweet.
She not only will be saying goodbye to her beloved students but will be seeing a little bit less of her daughter who teaches at Riverview, third grade teacher Brianna Hanfeld.
Susan Hanfeld is retiring this spring after 34 years in education. She's always loved coming to work and her daughter agrees.
"It's pretty special to be able to work with my mom," said Brianna Hanfeld.
Principal Ryan Amendt said Susan Hanfeld does anything and everything for the district. If someone is out, she is first to volunteer to pitch in and help.
"She'll drop whatever she's working on. She is the most flexible person in the building or the district," Amendt said.
Susan Hanfeld, who grew up in Loves Park, always wanted to be a teacher. One Christmas she got a chalkboard and other times she brought home extra worksheets from school.
"I had summer school in my garage," she said.
She started substitute teaching in the Harlem and South Beloit School districts. She taught sixth grade for at least 15 years. She recalled retired teacher Dawn Hendricks for guiding her and putting her on the right path when she started her teaching career.
She eventually found her more permanent home in physical education. Over the years she coached softball, volleyball and basketball across various grade levels.
It's a perfect fit for Susan Hanfeld, who said she "doesn't like to sit still." She works out every morning before work.
Amendt said she was a great role model in coaching.
"She's done a lot of mentoring. Girls that were students or athletes of hers have come back into the field of coaching or in other places in the district. She's had quite the impact of success with students coming back, giving back and participating in sports," Amendt said.
One of Susan Hanfeld's career highlights was having her daughter start work at Riverview five years ago. She recalled bringing her daughter to the school during "take your child to work day."
Her daughter Brianna Hanfeld called her mother an extraordinary person and teacher.
"She's worked so hard for all the kids and done so many different activities," she said. "It's really an inspiration. She's one of the main reasons I decided to be a teacher."
Amendt said Susan Hanfeld's daughter is "cut from the same mold" as her mother. She's eager to help.
"They are amazing educators and they give back to everybody. Everyone likes them and gets along with them," Amendt said. "Brianna is a wonderful educator and her mom and dad have raised her with a work ethic and commitment to giving back to kids and the community."
Following Susan Hanfeld's retirement, she plans to camp, travel and ride motorcycles with her husband Jeff. The couple also has a son, Tyler Hanfeld, who works for Youth Services Network as a social worker helping with troubled youth.